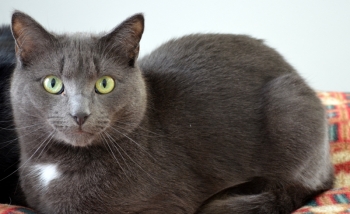 Age: Adult 1 to 8 years
Gender: Male
Size: Medium 7 to 12 lbs
Breed: Domestic Short Hair
Born in the wild in May of 2010, Iggy is a beautiful male with dynamic green eyes and cool "mitten" paws. Very happy with his inside accommodations, he is often found snuggling with the other shelter cats or peeking out from under a fuzzy blanket. He also likes to cruise high above on our catwalks, gazing soulfully down upon us. A beautiful wallflower, Iggy may take a little time to open up to you, but he's more than ready to climb into a brand new life.