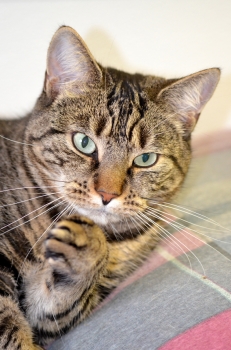 Age: Adult 1 to 8 years
Gender: Female
Size: Medium 7 to 12 lbs
Breed: Domestic Short Hair
Born in January of 2009, Mama Cass is a gorgeous tabby with glacial-green eyes and groovy mackerel swirls. Mama came to us almost two years ago with a litter of kittens. The kittens have long since been adopted, but Mama is still waiting her turn. She enjoys all of the human attention she receives at the Shelter, yet longs for a home to call her own. Mama Cass would love to spend time with you in the kitchen while you prepare your favorite recipes.