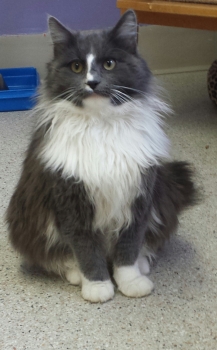 Age: Adult 1 to 8 years
Gender: Male
Size: Medium 7 to 12 lbs
Breed: Domestic Long Hair
Meet Sir Lancelot, a one-year-old male with a charming personality. Very curious and outgoing, he eagerly welcomes every visitor that comes through the door. Lance is also very playful, easily compatible with other cats, and thoroughly enjoys being groomed. Your handsome Knight awaits you.