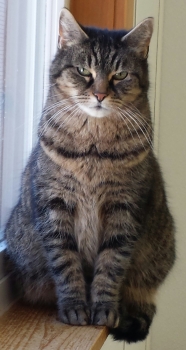 Age: Senior 8+ years
Gender: Male
Size: Medium 7 to 12 lbs
Breed: Domestic Short Hair
My name is Hanger, and I'm twelve years old. I found myself at the Shelter when my human family parted ways and no one could take me with them. I'm a pretty, independent ol' girl. I've always been and indoor-outdoor cat, and I've lived with canine companions my whole life. I've got life pretty well figured out by now, so let's get together soon and see if we can't help each other out.