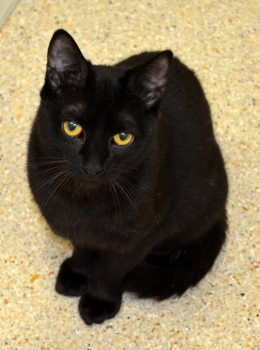 Age: Adult 1 to 8 years
Gender: Male
Size: Medium 7 to 12 lbs
Breed: Domestic Short Hair
Born on May 1st, 2012, Midgee is a black Domestic Shorthair with yellow eyes and fine strokes of white hair throughout his coat. A perfect little gentleman, Midgee doesn't come on too strong, but when ready, warms up with a marvelous purr. Playful, curious, and easily compatible with other cats, Midgee's perfectly charming.