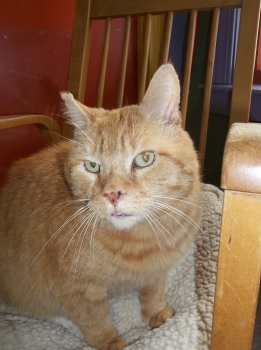 Age: Adult 1 to 8 years
Gender: Male
Size: Large 13 to 25 lbs
Breed: Domestic Short Hair
Morris here, and I'm a six-and-a-half year old orange Tabby. The Staff tell me that I'm quite the conversationalist. I enjoy people's company, and I'm looking forward to finding a nice home with an older person or couple who just want a sweet house cat who likes to carry on a conversation. In short, I'm an all around nice cat looking for a forever home. Every cat deserves one, don't you think? Let's talk about it.