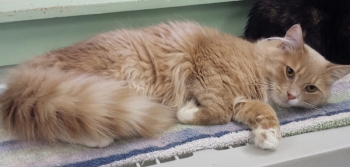 Age: Youth up to 1 year
Gender: Male
Size: Medium 7 to 12 lbs
Breed: Domestic Medium Hair
Hi, my name is Bob and I'm eight months old. I'm a super-friendly little guy who loves attention, but I do like life a little more on the quiet side (I tend to hide if the noise level is too high). I'm putting in my wish for an easy-going home with an adult or an adult couple who will spoil me with attention (and cat toys, too). Are you out there? I hope so.