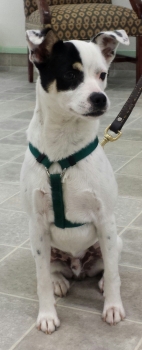 Age: Youth up to 1 year
Gender: Male
Size: Small 0 to 25 lbs
Breed: All-American Mixed Breed
A six-month-old Terrier Mix, Petey is full of love and kisses.  Playing ball, going for walks, and running around with his canine pals are among his favorite things.  He has shown signs of aggressive behavior toward other small dogs, but we feel he is merely exerting some of his own insecurities, as he plays very well with the larger dogs.  A fun, playful companion, Petey is ready to learn what home is.