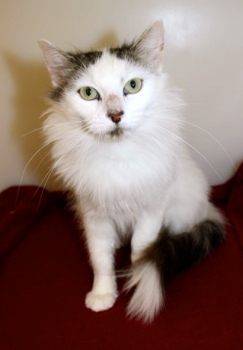 Age: Adult 1 to 8 years
Gender: Female
Size: Small 0 to 8 lbs
Breed: Domestic Mediumhair
Katelyn is a pretty three year old with a medium-haired white coat with tabby spots. She has striking, light-green eyes, and has a way of commanding your attention. She's very much an alpha female, so may not mix well with your others. A stray found hanging around a local horse farm, Katelyn would very much like for you to take her home with you.