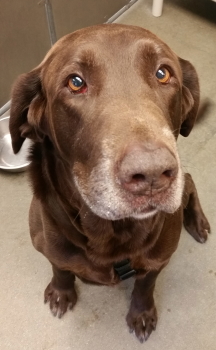 Age: Senior 8+ years
Gender: Male
Size: Large 51 to 100 lbs
Breed: Chocolate Lab
Say hello to TRAPPER,  an eight-year-old Chocolate Lab weighing 94 pounds. Trapper's a big, lovable guy who was recently displaced as a result of some life changes. He seems to be adjusting well to shelter life, but as you can tell by his face, he does long for your love and attention. He also seems to blend well with other animals, and may actually like the companionship. Come help Trapper start a new life.