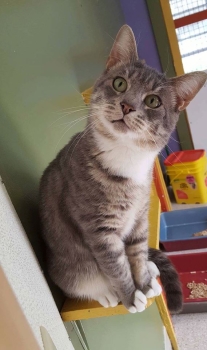 Age: Adult 1 to 8 years
Gender: Male
Size: Small 0 to 8 lbs
Breed: Domestic Shorthair
Born 3/8/15, Austin is a super cute grey Tabby weighing ten pounds. Austin is a lover not a fighter, and always carries the sweetest look on his face. He loves to play, but pulls himself out of situations where tension may arise. A very easy-going, good-natured boy, Austin is looking for a peaceful home to call his own.