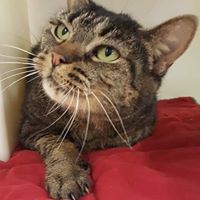 Age: Senior 8+ years
Gender: Female
Size: Medium 7 to 12 lbs
Breed: Short Hair

Don't let her facial expression fool you, Wendy will take all the pets and head scratches you can give. She tolerates other cats, but does not like to be around dogs. One of Wendy's least favorite things is to be picked up.
Come in and meet Wendy today!