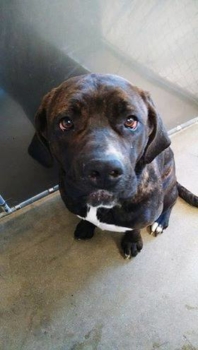 Age:
Gender:
Size:
Breed:
Bella
Date of birth: 12/1/16

Spayed female Mastiff mix.
Miss Bella is a very sweet girl with a big voice. She is very friendly onces she gets to know you. Bella gets excited at times and playfully likes to jump. She would benefit from some basic training to teach her some manners. She does well with cats, kids, and other dogs. Bella walks well on a leash and knows the command "sit". Come in and meet Bella today!!