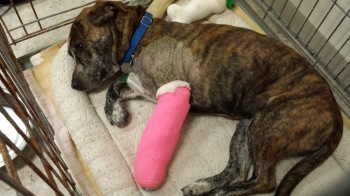 THANK YOU ALL!! BECAUSE OF YOUR OVERWHELMING LOVE AND SUPPORT,  WE NOW HAVE THE NEEDED FUNDS FOR SAGE'S COMPLEX LEG SURGERY.
On Tuesday, December 16th, Sage underwent her first leg surgery at Lucerne Veterinary Hospital. It was a great success, and she is now in the recovery process under the supervision and caring hands of The Ark staff.
As Sage grew older and larger, the weak bones in her front legs curved inward causing her to walk on the sides of her feet rather than on her pads.  Without this corrective surgery and therapy to straighten and strengthen her legs, by age three, the pain in Sage's legs would have been too much to bear.
Over the next three months, Sage's cast will be changed every two weeks and her healing progress closely monitored. After her left leg has completely healed and strengthened, the same process will begin on her right leg.
It's a long road ahead, but thanks to you, it's paved with the promise of a new life.