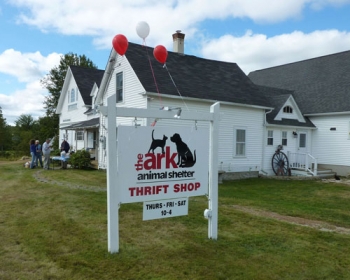 The Ark Thrift Shop is located at the corner of Mountain and Ellsworth Roads, across from the Fairgrounds in Blue Hill. Business hours are Thursday, Friday, and Saturday from 10am to 4pm.
The Thrift Shop is an important facet of the Ark's organization, not only providing financial support for the Shelter and its programs such as Stitch-in-Time, but keeping our mission alive and well in Hancock County and The Blue Hill Peninsula.
The shop carries dog-and-cat-related items like collars, leashes, toys, bedding, crates, as well as bric-a-brac, craft items, hardcover books, household goods and small appliances, jewelry, bedding and towels, pictures and mirrors, small furniture, small kitchen equipment and appliances, small lamps, tools and toys. Good quality and gently used donations are gratefully accepted during business hours.
Due to limited space, no large items please.
Drop-offs during open hours only: Thursday, Friday, Saturday, 10am to 4pm.
For more information about The Ark Thrift Shop, call Anne Sprinkle at 664-8650.