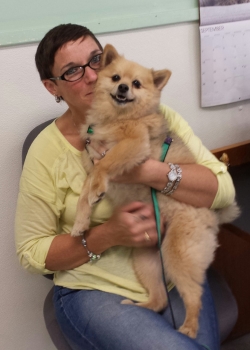 Volunteers are the backbone of our organization. If you love animals and are interested in volunteering for any of the tasks listed, please call 546-3484 and ask for Pam Geel, The Ark's Volunteer Coordinator.
Needed Now:
Assistance with office/clerical work
Walking dogs and helping develop basic training skills
General maintenance/handyman work
Drivers (The Ark will pay gas) to transport shelter dogs and cats to and from veterinary appointments
Foster homes for a variety of pets; and individuals to help field phone calls to the Shelter
The Thrift Shop is always looking for help!
Volunteers are always needed to help with fairs and events. There are many opportunities to represent The Ark, to help educate the public and to increase awareness and support for the Shelter. It's a lot of fun, too.
Volunteers who like cats are always welcome to spend some one-on-one time with cats needing further socialization. This requires patience and can be very rewarding. Personal contact on a regular basis can make a cat more interested in human attention thereby increasing the likelihood of adoption.